SHOPPING YOUR WAY TO ALKALINIC LIVING
I am a man and I love shopping! I mean, who doesn't love shopping? Whether it be to fill your closet with fashionable clothes or your grocery cabinet of all the food supplies you want. Shopping is every woman's weakness. It's every man's, too. But my favorite shopping place is at the grocery store. Yes, I am a big sucker for food. Anything that's edible, I eat – with great caution, of course. I am all for fitness and healthy living.
That's my major dilemma. Whenever I pass by aisles and aisles of variety of foodstuffs, my knees tremble in frustration. I guess you can relate with me. When you're presented with the palatable animal products, processed meats, ice creams, cakes, and many others that are seemingly detrimental to your health, that moment would be the biggest temptation in anyone's "diet world". Be careful though. There are also foods which are believed to have good nutritional values but contain hidden sugar. A few of them include your cereals, bread, spaghetti sauce, vitamin drinks, and even those that claim to be 100% apple juice. These are still processed, guys. So don't be too gullible and practice reading their nutrition labels.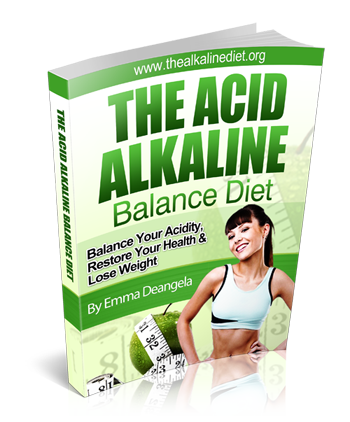 With all the fad diets revolving around the print and other reading materials, I assume you probably are tired of the false hopes they've given you. Don't fret! You can always go back and revisit your science class. Remember what your science teacher has told you before? Early on, we were taught about the pH balances our human body has. A slight deviation from these values can greatly affect the pH inside our bodies and may disturb some of our organ functions.
The alkaline diet is designed for us to revitalize our bodies and our overall well-being as well. All genders of all ages can benefit from this type of diet, even those who are plagued by chronic ailments like acid reflux, metabolic disorders, diseases concerning the digestive system, and obesity-related illnesses. Every weight problem, disease, or health issue will be addressed only if you target the root source. The acid-forming foods that became a staple in your daily intake are the main culprit of your health worries right now. Cross out those sources of red meat and sugar lurking in your pantry. When you ingest these acidic foods, you put too much pressure in your stomach to work even more. This increase in your stomach's workload is due to more stomach acid demand in order to digest the meat and sugar. Your body then becomes more acidic and fat cells are created. What are the acidic foods? What are the alkalinic foods? Read more about these on "The Acid Alkaline Balance Diet" by Emma Deangela. The package explains thoroughly what, when, and how to eat, a detailed food list, meal analysis, and basically how to alkalize your body. You are not required to undergo hardcore training, you just have to follow the alkaline diet.
Try not to feed your stomach and see how other organs will negatively respond to this. Take care of your stomach and your body will supply what you need.